G-Lift Folding Deck Crane
LOW COST & SPACE SAVING!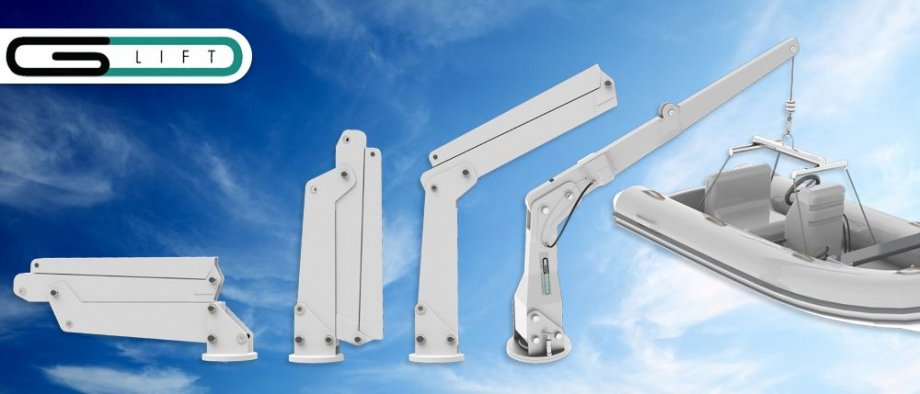 G-Lift folding crane system has been designed to lift inflatable boat, jet-ski and various marine vessels. It consists of 4 different models with a lifting capacity of 350 kg, 500 kg, 750 kg and 1000 kg. With its 3 folding boom design maximum length in vertical and maximum space saving in closed position can be provided. The hull made from 5083 H-321 Anticorrosive marine aluminum is resistant to sea water and it is as light as one person can lift it. Designed to provide high resistance, its base is 316-L stainless steel and it turns around its own axis with special torlon bearings in 355 degrees.
G-Lift folding crane system opens in 3 stages and the boom is turned around its own axis manually. In the crane system operating with 12V/24V DC Warn Electric Pulling Engine there is a gear system adjusted automatically according to the weight. Due to the Dyneema Kevlar rope used in stead of the steel wire, the hazard to break under the load is eliminated.
With a color specially desired to your G-Lift boat, with two stages of Awlgrip spray application it is delivered by painting with the highest standards.
Maintenance free. All models are
certified, guaranteed for 2 years.
| | | | | | | | |
| --- | --- | --- | --- | --- | --- | --- | --- |
| MODEL | HOIST CAPACITY | WEIGHT HULL | WEIGHT BASE | HOIST ROPE | ROPE SECURTY | HOIST LENGTH | ELECTRIC MOTOR |
| FCS350 | 350 KG | 74 KG. | 85 KG. | DYNEEMA | 4500 KG. | 8 MM-10 M | 12V/24V DC WARN |
| FCS500 | 500 KG | 110 KG. | 119 KG. | DYNEEMA | 4500 KG. | 8 MM-10 M | 12V/24V DC WARN |
| FCS750 | 750 KG | 115 KG. | 142 KG. | DYNEEMA | 7000 KG. | 10 MM-10 M | 12V/24V DC WARN |
| FCS1000 | 1000 KG | 155 KG. | 142 KG. | DYNEEMA | 7000 KG. | 10 MM-10 M | 12V/24V DC WARN |
---
CATALOG
(pdf)
TECHNICAL DOCUMENTS
(pdf)